Introduction
In addition to capturing video, you can simultaneously capture audio from a microphone, telephone line, audio mixer and other input devices with Webcam/Screen Video Capture Free. Audio quality with optional (audio frequency from 8000 to 48000Hz, bitrate from 8 to 16 & mono/stereo channel). In this way, it is wonderful to create a video production which includes your voice, ideal for recording video conferences and many similar occasions where audio is necessary. Now, Download Webcam/Screen Video Capture Free to capture video with audio.
---
Step 1. Choose Recording Video Source & Set the Output Video
Choose the video source and specify its related settings.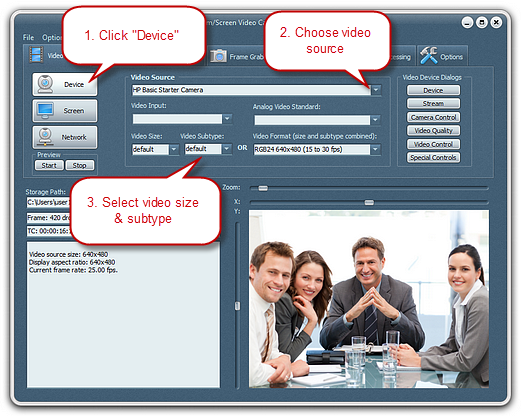 ---
Step 2. Specify Audio Recording
Click "Audio" tab and check "Audio Device Rendering" if needed. Then, select audio capture device and audio input source. Check "Mono" if you want to recording with single channel (the default setting is to record stereo with right and left channels). Click "Device Dialog" to specify the master input mix or pin line input mix. Move the slider to control the audio input level and balance.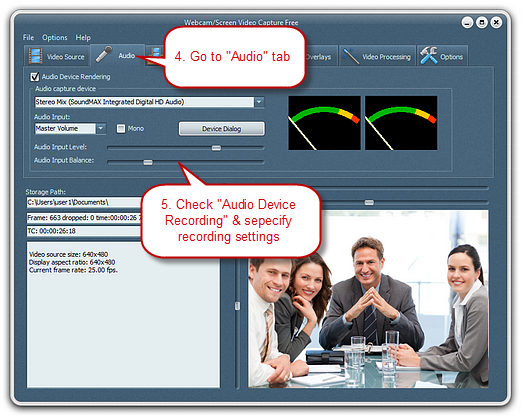 ---
Step 3. Specify Recording Settings & Start Recording
Click "Recording" tab. Check "Audio Recording" and choose the audio quality from its dropdown list. The recording audio codec can also be easily chose and set.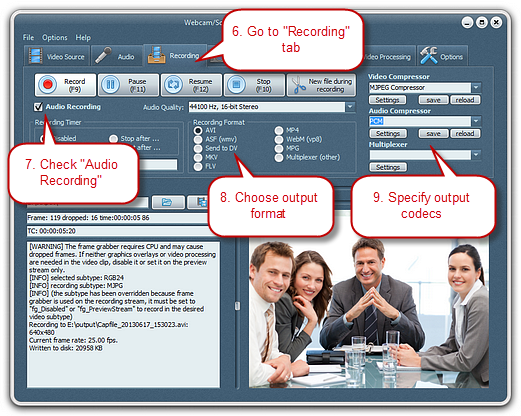 You can select output folder or directly open it after recording. When everything is ready, click "Record" or press F9 to start recording. You can also pause, resume, and stop the recording.