Introduction
Webcam/Screen Video Capture Free is a new generation web video recording program. Its superior technology lets you easily record streaming video from all video websites. This free streaming video recorder can capture all your favorite films, TV shows, live sports, video blogs, and music videos that are playing on your media player or web-browser for enjoyment on your portable devices at your convenience. Now, download Webcam/Screen Video Capture Free to easily create a surveillance video to keep an eye on your home, office, parking area or anywhere you have an IP camera, turning your PC into a video surveillance system.
---
Step 1. Connect the IP Camera
Click "Network" and enter the URL of the IP camera. Then, set connection and receive timeout. If authentication needed, enter your user name and password. Click "Start Preview" to monitor what is happening remotely. To control the IP camera, you can enter a command in "Send an IP camera command" and click "Send".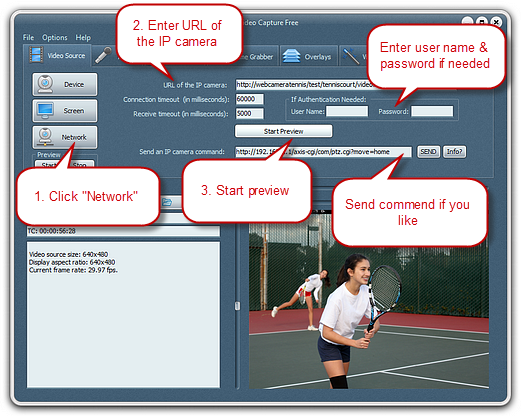 ---
Step 2. Specify Recording Settings & Start Recording
Click "Recording" tab. If you want to record video with audio, check "Audio Recording" and choose the audio quality from its dropdown list. The recording format and codecs can also be easily chose and set.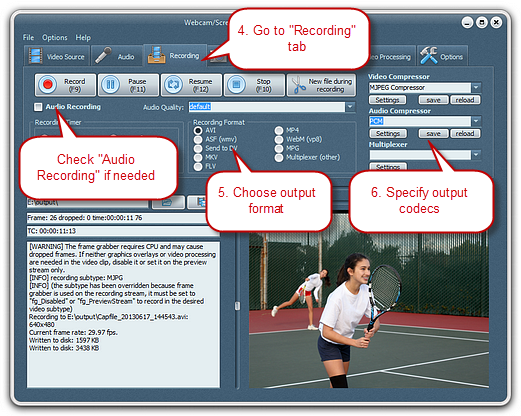 You can select output folder or directly open it after recording. When everything is ready, click "Record" or press F9 to start recording. You can also pause, resume, and stop the recording.